Fitness
Your workouts will be designed to your preferences and your body's structure.  The main focus is on resistance training (strength training), but cardiovascular exercise and flexibility will also be addressed in the workout plan.  No equipment necessary, I bring everything that's needed.  I also assist in exercise equipment purchasing.
Mike Campbell's Personal Fitness Training Benefits
You will have a trainer that brings the workout experience to you, in the convenience of your home or office.  You won't have to spend the time or deal with the stress of driving to a location.
You will develop an understanding of how your body works in terms of exercise, basic nutrition, hydration, sleep and stress management.
You will look as good as your genetics will allow, if you follow the program.
You will develop a faster metabolism and burn more stored calories.
You will get stronger and leaner.
You will lose weight and inches if that is a desired goal.
You will improve the skills of your favorite sport or hobby if that is a desired goal.
You will have exercise programs tailored to your available time, goals, needs and limitations.
You will have a trainer that operates with safe, precise scientific methods, while at the same time making the workout fun and interesting.
NEW!  SESSIONS CAN NOW BE DONE ONLINE, VIA SKYPE OR ZOOM!
Self Defense
Instinctive Actions Movements Defense is a method of self defense where the practitioner uses movements that are natural to them.  Unlike other martial arts and self defense classes, IAM Defense has no memorized movements.  There are too many variables in a self defense situation, and trying to remember what to do first or next is not realistic.  We focus on bringing out the body's natural protective abilities that work for all situations.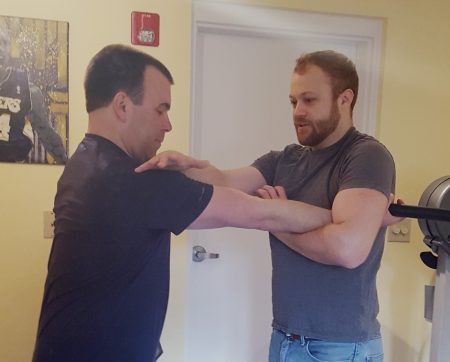 IAM Defense Benefits
You will develop instinctive skills.
You will develop faster reflexes.
You will develop a heightened sense of awareness.
You will learn the attacker's weaknesses.
You will feel confident in stressful situations.
You will learn how to stop grabs, chokes, punches and kicks.
You will learn how to counter clubs, knives, and guns.
You will discover that YOU are the ultimate weapon.
Recommended Partners